BALL Trainmaster Celsius
Ball je predstavio na tržištu svoj novi Trainmaster model u čast Anders Celsius-a, izumitelja moderne temperaturne skale.
Trainmaster serija spada u klasičnije, bezvremenske satove, tako da ni novi Celsius model nije nikakva iznimka. Jedna od glavnih karakteristika je TMT ( The mechanical thermometer) modul, patentirani mehanički termometar koji se nalazi na brojčaniku. Ovaj modul zapravo i nije velika novost, pošto ga je Ball nekoliko puta koristio na svojim modelima iz Hydrocarbon i Diver serije. Sam modul može prikazivati vanjsku temperaturu u rasponu od  -35°C do 45°C i to sa točnošću od 97%. Prikaz temperature je smješten u obliku polukružne skale na donjem dijelu brojčanika.
Kućište je klasičnog, pomalo dressy oblika, promjera 41mm, i debljine od 12,6mm unutar kojeg kuca Ball 9018 automatic mehanizam. Dizajn brojčanika pomalo podsjeća na stare džepne satove iz početka prošlog stoljeća. Naravno, Trainmaster Celsius ne bi bio kompletan bez tricij iluminacije (točnije 15 staklenih ampula na brojčaniku) koje omogućuju savršenu vidljivost u mraku.  Sat je limitiran na 310 komada, a cijena nažalost još nije poznata.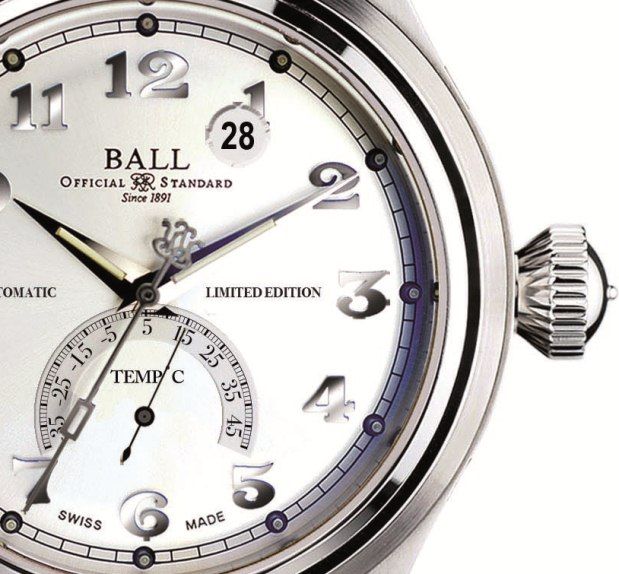 Klik za veću sliku
---